Come along and witness the magic of the movies come to life
It's already the halfway point of our Spring Program at the Disneyland Resort and it won't be long before we're welcoming many of you in the fall. But before we do, we wanted to give you a sneak peek at one extraordinary event that makes our Disneyland College Program an internship unlike any other.
Many of you developed your love and passion for Disney because of the movies you watched growing up. All Disney fanatics like yourself have that one movie that is near and dear to your heart and inspired you in one way or another. Can you imagine how excited you'd be to get a firsthand look at The Walt Disney Studios in Burbank and see some of the newest movies, commercials and television shows being filmed? That dream became a reality this month for our spring participants!
Every season on the Disneyland College Program, we reward our participants for their hard work with a private tour of The Walt Disney Studios where they can visit some of the iconic office buildings designed by Walt Disney and visit some of the legendary sound stages where many of your favorite movies were created. Seems like a dream come true, right? That's only the beginning.
The Walt Disney Studios is home to the Disney Archives and our exclusive tour isn't complete without stopping in and looking around at some of the most historic Disney artifacts you'll ever see. Each visit is topped off with a chance to hold a real Academy Award. Make sure to get your photo taken so you can show all of your friends and family back home what you're up to on your day off.
As you think about peeking in at the sound stages, are you wondering what could possibly be in them? Here's a little secret…they're not empty!
They change around quite frequently depending on what is currently being filmed, but this month, we had the chance to see the set of Code Black. We walked in and it looked like we were entering a real hospital. Many of our participants said that walking around the set was one of the neatest things they've ever experienced. This tour really is something you'll never forget.
It's not uncommon to see Disney icons and legends during the tour; after all, it is a real, working studio and also our corporate headquarters. It's pretty amazing when you head to lunch and see Bob Iger sitting down eating lunch a few tables away! Since filming is always taking place, you may even see a celebrity or two walking around between shooting scenes. That's when it hits you and reality starts to set in…you work for one of the greatest companies in the world and you're touring the place where Disney movie magic happens every day!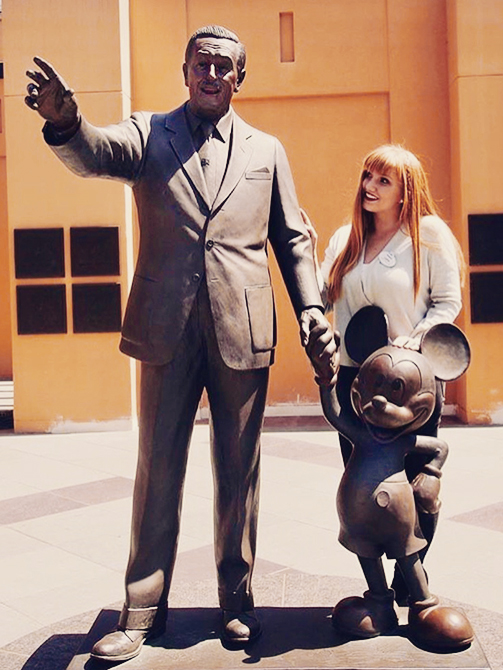 Every month on the Disneyland College Program is packed with spectacular special events and opportunities you could only dream of, just like The Walt Disney Studios tour. As our saying goes, nobody throws a party or hosts a celebration quite like Disney.
If you've recently accepted an offer for our Fall or Fall Advantage Programs, make sure to get involved during your program and take advantage of all of the incredible events and activities we offer each season. You'll not only have a ton of fun on your program, but the memories you'll create will be legendary!