What's the Difference: Disney College Program and Disney Professional Internships
Disney College Program and Disney Professional Internships are both paid internship opportunities available to students around the United States; however, they offer entirely different options and experiences.
Disney College Program
The Disney College Program offers a variety of front-line roles throughout the Theme Parks, Resorts and other guest-facing locations around property. These roles range from Attractions to FoodandBeverage to Vacation Planning. When applicants apply for the Disney College Program, they may be assigned to any of these roles.
Participants on the Disney College Program in Florida are provided housing at any of the four Disney Housing complexes located close to property. Transportation to and from the housing complexes, work and shopping hotspots in the area is provided for participants.
Disney College Program participants in California are provided housing approximately two miles north of the Disneyland Resort. This housing complex is located nearby many local shops, attractions and recreation facilities. Although participants are highly encouraged to bring their own vehicle, public transportation is an option as part of the Disneyland Resort's Commuter Assistance Program.
Participants in Florida also have the opportunity to take advantage of the learning component of the Program by taking classes within the Collegiate Courses, Disney Exploration Series or Professional Development Studies. Disneyland Resort offerings are a little different and classes are mandatory. Participants in California may select classes from the Blended Learning Series, Collegiate Courses, Leadership Speaker's Series or Professional Development Study.
Disney College Program requirements entail that applicants must currently be enrolled and taking classes at an accredited college or university in the United States, must have completed at least one semester, must meet their school's requirements for participation, must be at least 18 years old by the time the program begins and must be authorized to work.
Disney Professional Internships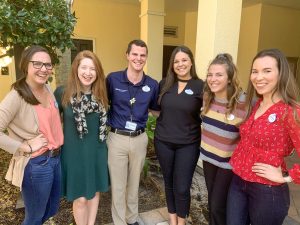 From left to right: Kristen, Leslie, Sean, Brittany, Julia and Madison
Disney Professional Internships at the Walt Disney World Resort and the Disneyland Resort offer primarily backstage support roles to students. These roles are more career-oriented and may be found in a variety of fields, including Disney's Animal Programs, Engineering, Marketing, Information Technology and more. Because there is a more limited number of these roles available than those of Disney College Program, Disney Professional Internships can be considered more competitive. Also, when applying for a Professional Internship, applicants may apply for any number of roles, but they apply for specific roles of their choice.
In addition, students may apply for Management Internships. These internships are geared toward operations-related lines of business, like FoodandBeverage, Lodging and Theme Park Operations. Like participants on the Disney College Program, Management Interns may work in front-line roles; however, they are primarily responsible for coaching, mentoring and developing front-line cast members.
Housing in Florida is available to Professional Interns on a first-come, first-served basis. Participants are also required to supply their own means of transportation. Management Interns are not eligible for housing.
Disney Professional Internships requirements generally differ for each posting. However, all Professional Internships require that applicants be at least 18 years old and eligible to work in the United States. Many also require that applicants have previous experience related to the line of business. Some Professional Internships also require previous participation on the Disney College Program.
Communication Team, Disney Internships And Programs