Journey to a Galaxy Far, Far Away with Disney Culinary
Disney Culinary teams across our parks and resorts around the world are known for impeccable storytelling through immersive dining. Every dish is intentionally crafted to further encourage guests to enjoy the unforgettable experiences they find only at Disney.
One member of the Disney Culinary team at Walt Disney World Resort is Chef Alexandria. A 10-year cast member, Alexandria began her Disney journey on the Disney Culinary Program in the bakery at Disney's Grand Floridian Resort & Spa. After transitioning into a full-time position, she continued to develop her skills, moving into a Chef Assistant role as part of the opening team for Amorette's Patisserie at Disney Springs.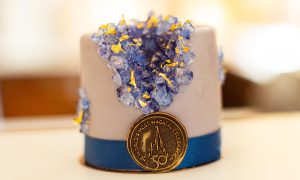 Being part of an opening team at Disney enables our cast to see a project develop from start to finish – and make their mark on history by being the first to create new menu items and introduce exciting experiences to our guests!
"When creating new dishes, I like to think of dessert as an experience," said Alexandria. "I also have a passion for freshness, and well-rounded flavors, so I always apply a filter to all my creations evaluating whether I would purchase it as a guest based on the description and appearance."
From there, Alexandria completed an Emerging Leaders development program and joined another opening team on a temporary assignment as the Pastry Sous Chef for Disney's Riviera Resort. Now she's reached her most unique assignment yet as the Pastry Sous Chef for the recently launched Star Wars: Galactic Starcruiser.
"I love themed, immersive food, so working on the project for Starcruiser really was my dream – creating dishes that tasted familiar but looked otherworldly," said Alexandria.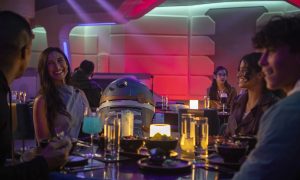 Star Wars: Galactic Starcruiser is a revolutionary new experience at Walt Disney World Resort where guests are invited to live a bespoke experience and journey further into a Star Wars adventure than has ever been possible – and the dining onboard is an integral component to that experience! The Culinary team worked extensively to create offerings that would engage each of the guests' senses, from unexpected textures and colors to unique flavor combinations and plating styles.
"I was able to help with the concept and development of the pastry menu alongside the Pastry Culinary Director," said Alexandria. "As I see our guests' response to the dessert offerings firsthand, it is the proudest moment of my career so far!"
As Alexandria celebrates this milestone in her culinary career, she credits her growth in part to the work environment fostered by the Disney Culinary team.
"I can really lean on my peers when I am in need. Not everywhere is like that, and it is so helpful to know that you are not alone," said Alexandria. "Disney is full of opportunities as well as good benefits. That with the combination of an environment of inclusion and safety has kept me here for 10 years now."
Just as she had been inspired in the early days of her career at Amorette's Patisserie, Alexandria reflects on one of her favorite memories of being able to return to her previous work location to serve as a mentor while teaching a cake decorating experience.
"I was able to work with and teach guests my own passion," said Alexandria. "We had several young guests and hearing their stories about wanting to be a pastry chef knowing that was me 20 years ago. Being able to share with them and inspire them – those memories will last my entire lifetime."
And to other aspiring culinarians working towards an opportunity at Disney?
"Your journey will likely appear different than others, and that is okay," said Alexandria. "Keep working hard, inspire others, lean in and teach those around you when possible. Be open to new ideas. Most importantly, never stop dreaming."
Take hold of your dreams and discover how you can create a fulfilling career as a part of our Disney Culinary team. Click here to explore the possibilities.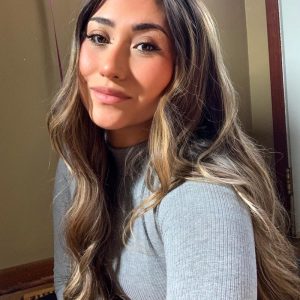 by Ava F, Communications Coordinator