Leading Through Authenticity: Meet Amanda
Meet Amanda Kim, a Retail Stage Manager at Disneyland Resort! She is part of a team that oversees nine stores on Main Street U.S.A. in Disneyland Park. She supports hourly supervisors and acts as a store owner, working with multiple partners to make sure the guest and cast experience are the best they can be.
On top of her day job, Amanda is also a Business Employee Resource Group (BERG) leader with a group for Asian Americans, Pacific Islanders, and allies called COMPASS, and she says that work is truly where her heart lies. She gets to give feedback on food and beverage and character experiences, as well as create programming for cast members who are a part of this dimension or who are allies looking to learn more about it!
What are you most looking forward to during Asian American, Native Hawaiian, and Pacific Islander History Month?
There is so much! I have had the immense pleasure of helping lead the planning for this month and I truly don't know if I can put into words how much it has meant to me. I think what I'm looking forward to is seeing everything come together after seeing all the hard work that's gone into it.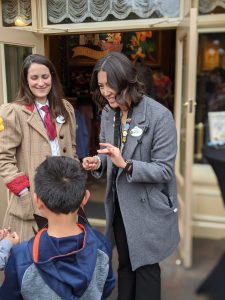 Amanda with a guest at Disneyland trading pins.
What do you find most rewarding about your experience as a BERG member?
I've been a BERG leader for five years now and there is no shortage of rewarding experiences working in this space, but being a part of Asian American Native Hawaiian Pacific Islander Heritage Month has been a highlight.
Working with BERG leaders from across the company who share the passion and drive that I do has been an incredible experience. I'm often taking meetings with these leaders and the feeling of fulfillment I get from them makes our time together not feel like work, so much as a safe space for innovation and brainstorming.
I am a proud mixed Korean American. My father's family immigrated here when he was just a child and he met my mother in Los Angeles. Coming from a mixed background, I struggled with my identity for much of my life, even up until a few years ago I never felt Korean enough but now I see the beauty of my experience. I know I'm not alone in this, I know I have an amazing support system here at work, and I know that I have the power to influence others' experiences just like I was influenced by the many friends, BERG members, and leaders I've encountered over the years.
What does a reimagined tomorrow look like for you?
A reimagined tomorrow is a tomorrow where everyone feels represented, where everyone gets a seat at the table and has their voice heard, where we push as hard as we can for meaningful allyship and action, and a tomorrow where we can truly be innovative leaders in every sense of the word.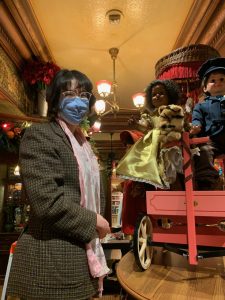 Amanda in one of the retail stores at Disneyland.
What makes Disney an exceptional place for storytelling?
As a kid, I fell in love with Disney because of the stories we tell through our content; television shows, movies, and live performances. It's safe to say I was a Disney kid. But working here I've gotten to see such a different side of the storytelling that is much more impactful to me. We get to create spaces for cast members' voices to be heard, for their stories to be told.
When I first became a leader here, I was pleasantly surprised to see how willing cast members are to share their experiences, and those stories make me a better person. Whether I'm learning more about their background, why they came to Disney, or simply listening and offering resources for a life event, those stories are powerful reminders of the impact we have through storytelling.
Why is innovation so important when it comes to Disney's stories?
Disney prides itself on being an innovative company, but there is so much more to that than staying ahead of the game in technology or services offered. We are a huge source of entertainment and an escape for people around the world, and our impact is immeasurable. We have the power to use that impact to create lasting, meaningful change in many ways, and I'd love to see that used more frequently.
As we innovate and push for new experiences and stories, we are leading by example for hundreds of other businesses and individuals, showing them the importance of innovative storytelling. I think we see it in stories like Turning Red, Eternals, and the creation of Star Wars: Galaxy's Edge… There are diverse, innovative stories to tell and we have the platform and resources to elevate them.
How does your team put the audience first when it comes to your work?
Working at the Disneyland Resort is all about the show, creating experiences that live within this world, both for guests and cast members. I love putting together resources for my cast on different elements of our locations, for instance, we recently worked with our Resort Enhancement partners to open a new holiday shop on Main Street and I got to work on it both as a member of the BERGs and as a retail leader!
We installed decorations for Lunar New Year and cast members had so many wonderful questions about the colors used, the decorations, and the food represented in the displays; it was a moment of recognition for me to see this work in action. In our education of the cast, we created guides and resources for them to use when talking to guests about the decorations, showing our guests, our audience, that they are a part of this experience.
Check out more spotlights on BERG members across the Company on Reimagine Tomorrow!
Business Employee Resource Groups (BERGs) are formed around a shared identity, interest, or pursuits. These employee-led groups bring together employees for insights, support, career development, and community engagement. All colleagues are welcomed and encouraged to join.
by Disney Career Recruitment